Cindy Welch Paintings Exhibit
March 2020
Cindy Welch is a local water color artist.  She has painted many paintings of local landmarks in Castle Rock and the surrounding area.
Continental Divide Raceways Exhibit
May 2019 – Nov. 2019

CDR was a well known race track located in Castle Rock.  Great racers such as, A.J. Foyt, Mario Andretti and Carrol Shelby raced here.
Trailblazers of Douglas County
April 2018
Trailblazers that came through Douglas County over 200 years ago were highlighted such as John C. Fremont, Kit Carson, and Isabella Bird.
Criminals, Jails and The Locks that Bind
Feb. 2019

Barry Meyer, former owner of Acoma Locks, brought in his collection of locks.  Some were from the Douglas County Jail that used to be located at Plum Creek Parkway and Wilcox St.
Art Show from Renaissance Expeditionary School
March 2018
The 2nd, 4th and 5th graders at Renaissance Expeditionary School did an art project around the Town of Castle Rock and we were honored to show their work in the museum for the month of March.
Old Fashion Christmas
December – February 2018
Santa hung around after his busiest night of the year to cheer on our visitors.
100th Anniversary of U.S. Involvement in World War I
April – November 2017
April 6, 1917 was the 100th Anniversary of the United States becoming involved in World War I.  Thanks to the lending of many WWI items from locals we were able to have an exhibit highlighting items from the United States and from other countries.
The Denver & Rio Grande Railway
April – November 2016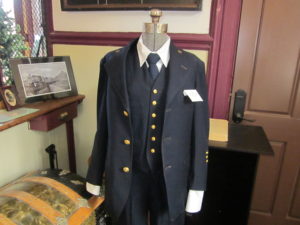 The Denver & Rio Grande Railway was started by Gen. William Palmer of Colorado Springs.  It began in Denver and was to go to the Rio Grande.  It came through Castle Rock in 1871.  After Castle Rock became the County Seat for Douglas County in 1874 a depot was built in Castle Rock.  The depot today is the Castle Rock Museum.
The 50th Anniversary of the 1965 Flood
Summer 2015
In 1965 Castle Rock was cut off from the rest of Colorado when Plum Creek and Sellar's Gulch flooded the city and washed out the bridges. Come in to the museum to find out what bridge this was and how much water rushed through Castle Rock before flowing into the Platte river and flooding Denver.
Russellville
Spring 2015
In the 1990's the Russellville Archaeological Project became a historical survey of the pubic and private land in Russellville. Using metal detectors archaeologists discovered over 3,000 items, it has been said that they may have been used by Confederate's during the civil war, and that some items could have been used in the mining of gold in Russellville in 1859. The museum is hosting a case with numerous artifacts for a limited time.
History of Firefighting in Castle Rock
May 2012
An exhibit of pictures, documents and artifacts connected with fire fighting in Castle Rock. Exhibit items included a self-propelled fire hose nozzle, a backpack fire pump, a hand pulled fire cart, and a Stokes basket (the rescue basket often seen swinging below a helicopter). Items of the Castle Rock Fire Department history from its origins as well as color photos of the fire that destroyed the Douglas County Courthouse in 1978.
When Castle Rock was a Rain Forest
Summer 2010
This summer the museum was proud to display locally-discovered fossils in our exhibit, "When Castle Rock was a Rain Forest." The fossils, on loan from the [Denver Museum of Nature and Science](http://www.dmns.org/), were discovered during the widening of Interstate 25, and are sixty-four million years old. Our exhibit was [featured in the Douglas County News-Press](http://coloradocommunitynewspapers.com/articles/2010/07/01/news_press/news/24_rmfossils.txt). We still have a case of fossils on display today.
Patriotic Quilts
February 2009 – March 2009
The red, white, and blue themed quilt show displayed the talents of the Busy Fingers Quilting Bee. They create quilts for returning veterans and their families, who stay at Fisher House. Fisher House is attached to the Denver Veterans Hospital.The group makes many quilts for charity, and its work gives a warm and cherry look to the museum.